Getting your business verified and then optimized with full content within Google My Business (GMB),
utilizing it as a source for leads.
Understanding Google My Business
Understanding the Google My Business page is vital to being found by your local users online. This online profile section delivers critical information directly to your audience, giving the location, contact information, website details and operating hours. These sections will also display reviews and other linked elements of communication.
As a critical source of leads for companies online, this valuable presentation of your essential information is an effective way to draw in local users. This section provides everything they need to know to click through to your website or visit your company in person. Read on to find out more about the value of this information.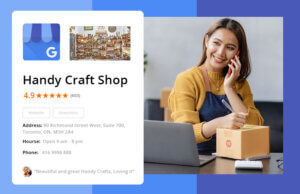 What is a Google My Business Profile?
This essential profile is a free listing from Google, linking your company with a site and location on their map system. It allows you to provide details and photos of your corporate premises, including your location, services and products.
Creating this free profile is a great way to increase your visibility across online platforms, ensuring your services are presented to users. Information from your profile may even appear in search results above organic results, showing your location through Maps and Shopping apps.
This coverage includes companies with a physical location and those offering services by meeting with clients in other areas. Your Google My Business profile is a quick rundown of your company, giving nearby users an easy way to engage with your services.
Link To Locations
Whether you are looking for foot traffic or web traffic, this search engine has proven to effectively entice users, showing them exactly how close and convenient your services are. A Google Business Profile helps ensure that anyone searching for your products or services will find your listing on Maps or presented alongside organic results.
In addition, your listing shows searchers where and how to visit your company and improves your local SEO potential. In particular, a listing for a local business is more likely to appear when people search for a nearby solution. This implementation ensures that your local SEO is managed and supported ideally.
Google My Business pages can be a significant factor when attracting your local audience to your products and services. With the proper professional implementation, you can refine your information and present a more compelling profile to your audience.
Contact me today to find out more.
Book your free Strategy Chat with Senior Partner,
Louie Pateropoulos.