"Content is King!" This is a borderline age-old saying, but it still holds true. When dealing with an online audience, engaging, high-quality text and media can drastically impact your performance across digital spaces.
Why Content is Still King
Your website is your communication platform – a place where you can take the opportunity to communicate ideas or information the way you want – no filters, no blocks, and no censorship.
You'll most likely want to keep it family-friendly, but at the same time, you can express yourself, put forward your purpose and passion, as well as simply give detailed information on what your business offers.
On other platforms – and there are so many – people are looking at ad text, videos, images, social media posts, and all else related. Having the right elements can help draw in and engage your audience effectively.
Read on to find out more about these professional elements.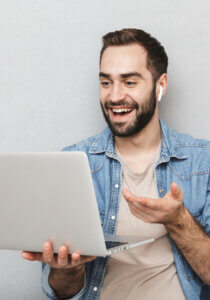 Builds Audience Trust
Most consumers don't trust ads right off the bat. Many people reading this are likely running ad blockers through their browsers. However, many people will trust ads from brands they know and recognize as reliable.

When you can implement engaging pieces of media and text throughout your site, social media, and ad campaigns, you can ensure a more valuable interaction with users. You can be seen as a reliable source of information, a leader in engagement, and an insightful brand to follow when you consistently put out high-quality content.
Well-developed content changes how your audience sees you by educating your audience about your product and industry, introducing your team, describing services, or writing about a relevant topic.

Another bonus is that not only do people read your articles, but Google bots scan them and find out more about you and your services to rank you better in search results.
The main point is, you should be writing and posting for two vital reasons:
To get your message and info out to potential clients.

To let search engines know what you offer and therefore rank you accordingly.
Comprehensive Branding Tool
Visual search, video streaming, podcasting, and Google snippets are all prime elements for branding. It's all about integrity and creating an image of reliable service.
TIP:
Treat every piece of media and text like it's the only thing people will associate with your brand, and you can ensure the right information is being received. For example, if someone only used Facebook for all their online viewing (and many use it as their main search engine), be sure to convey purpose and passion in each post or ad you create!
By the way, if you want to have your online presence and image reviewed for consistency, branding, and ability to convert into leads, you can check out our Conversions Audit Service.

Our team will review your images, quality, and content creation along with checking your conversion points to see if visitors are engaged and will respond to your messages. You get an unbiased viewpoint on your content and whether it is something truly valuable for your audience to engage with.

Now you'll have a positive direction to go in and build content that converts into leads. Content is also valuable as a branding tool; we'll review this and ensure that your business is being portrayed online in a meaningful way.
Cost-Effective, Sustainable, and Scalable
Content is easy to edit and adjust when you need to, ensuring your information is always accurate, relevant, and can be changed at any time if needed. It also makes it easy to upload new text and media to ensure your performance is being boosted.

When creating consistent text for your site and pages, you can easily shift to different formats over time and even adjust your target audience for further reach.
This means that you can also recycle and repurpose existing content. Here are some simple ideas for that:
Take a podcast you've done and transcribe some of the content, then turn it into a blog post.

Take an article you wrote, find some good quotes within it, and post them on social media as independent quotes from you.

Find an old article or blog post, review it, update it, and rerelease it.

Grab a few blog posts all on the same subject, and combine and consolidate them into one larger post.

Repurpose a white paper or previous research paper into a blog post.

Create and design an infographic (a visual representation of information and data

)

from blog content.

Turn existing content into fliers, slide decks, newsletters, videos, etc.
Offer Something Unique
Without comprehensive content, your unique value proposition is limited to the products, services, and experiences you offer only after someone becomes a customer.
Wondering what to write about to draw potential customers in? Here are some ideas for what to create to get you started:
What is the main question you hear from your prospects and clients? Wri

te about it.

Find something that interests you personally in life and relate a blog post to that subject.

Take your top-selling service or product and write about why it's so great.

Something most people don't know about your industry or product.

Create some "How To" articles or videos.

Describe some technology or know-how points from your industry.

Write about what you are an expert in.

Write about your experience with a client or situation in your business.

Write about your successes and gains in the industry
You can also study the content of your competitors and the audience they target. Then choose your angle or different expertise on the same subject, thereby earning instant differentiation. In this way, content offers a second unique value proposition, allowing you to stand out from the online competition.
Again, content is king! It is as true today as it ever was. When you produce valuable, reliable, and insightful information for your audience, you can improve your SEO ranking and create a valuable connection with your customers.
We can help you generate complete, consistent, and abundant content!
Contact our team at
DIT Web Solutions
today to find out more about implementing these digital marketing services and more!
Book your free Strategy Chat with Senior Partner,
Louie Pateropoulos.