Submitting to Search Engine Directories
Search Engine Directories
Similar to the yellow pages in a phone book, a Search Engine Directory is a categorized online index of websites. Submitting your pages to Search Engine Directories is essential for your long-term visibility and success online. When done correctly, submissions can be hugely beneficial for Search Engine Optimization (SEO) as they ensure a more timely ranking period for your pages and more direct links back to your site.
Gaining a listing on a relevant and high-authority site provides several elements to help improve a brand's ranking. In addition, expert services can ensure you have the right links leading potential customers back to your business.
Read on to find out more about these solutions.
One-Way Backlinks
Backlinks are links from one website to a page on another website. Backlinks to a website that are one-way rather than reciprocal are rated highly by search engines, as they demonstrate valued and trusted content.
Search Engine Directories don't ask for a reciprocal link as standard practice, so usually, landing a listing is a valuable and trusted one-way link opportunity that can help further your site's SEO ranking.
In addition, the link is further boosted in its value in being listed alongside fellow businesses in the same industry or niche, proving it is relevant. The older, more established and relevant a directory, the more thrust and drive will be on the link.
Faster Initial Listing
Web crawlers – the automated programs that 'crawl' the internet looking for new websites and content – pick up these listings quickly.
Suppose search engines haven't yet indexed a site. In that case, it will be within just a couple of days of successfully submitting and receiving a listing, expediting its presence on SERPs (Search Engine Results Pages).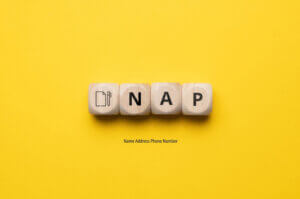 NAP
NAP stands for Name, Address and Phone Number, basic elements that make up part of a listing.
In directory listings, the NAP details are entered the same way across different websites and match how these details are displayed on the business pages, thereby gaining maximum benefit.
Increased Keyword Relevance
When a listing is approved, and successful, and a link appears alongside other related businesses and listings, this reinforces the site's theme to search engine algorithms.
This leads to further improvement of the machine's learning and comprehending of which keywords and phrases are best for the brand for it to rank organically.
Brand Awareness
In many cases, those browsing a directory will not already be aware of the brand, putting the company name in front of a new audience, furthering their exposure.
There may also be an opportunity increased awareness of the brand, gained by those working with and for the directory, in terms of strategic business relationships or advertising.
A Quick, Easy, and Usually Free SEO Tactic
SEO activities take time and technical know-how and can be expensive. On the other hand, directory listings can be quick, and often free. Gaining a listing on an appropriate site is one of the most reasonable ways to obtain backlinks, boost brand awareness, and reinforce keyword targeting.
However, the listing quality must be high. This quality is known as Domain Authority. Domain Authority is a search engine ranking score that gives a measure of how successful a site is when it comes to search engine results. It was created by software development company Moz and gives an overview of likely search engine performance.
Google also created their own quality valuation system called Page Rank. This again is a value assigned to a web page as a measure of its popularity or importance and is used to determine the order in which search engine results are presented.
Both PageRank and Domain Authority can factor in to the listing quality. Websites with poor rankings could drag the value of your own pages down, were you to list with them. Conversely, websites with high rankings can help boost your own rankings up if you can get listed on them.
Summary
Factoring in the authority of the website, submitting to Search Engine Directories ensures you get more visibility and a better potential ranking for your site's pages. In addition, these help you link keywords to your site more effectively and quickly.
The main purpose of Search marketing is to get your web page or website to be visible, accessible, and found. Many people find companies through online directories, so just be sure you are one of them.
———————————————Call me today to find out more.
Book your free Strategy Chat with Senior Partner,
Louie Pateropoulos.